Although reborn dolls are usually realistic human baby dolls, apart from some monkey baby dolls, artists have made use of the concept of fantasy to craft fantasy reborns resembling neonatal dragons, aliens, fairies, werewolves, and vampires as well. If you are looking for fantasy reborn dolls, then keep reading! This article will present some unique, fantastic fantasy reborns created by artists and sculptors from all over the world. Based on price, appearance and online reviews, we have selected a list of the top fantasy reborn dolls we found online.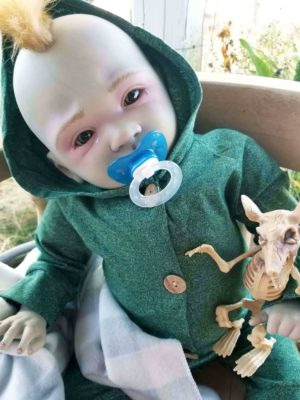 Artist: J Marie
Size: 17″ tall
Eye Color: Pale Brown
Material: Vinyl, cloth, pollyfill, polly pelets, glass beads, and soft fiber
Here is Flax. Poor little Flax was infected with the zombie virus. He has no mommy to take care of him. Flax is scared to walk the world alone even before he can walk. No wonder his beautiful eyes are filled with tears.
Flax is a 23 inch doll with vinyl limbs and a cloth body that is weighted and filled with polly pellets, glass beads and pollyfill. He was painted in many layers with heat set paints for his realism. Flax has greenish skin with blue visible veins and hand rooted strawberry blond hair.
This sweetie wears 3 to 6 month clothes, size 2 diapers and he will come home with his hooded outfit, a blanky, his special brain juice bottle, two pacifiers, and his pet rat.
This doll is not a toy; he is a fine collector doll not meant for rough play.
Lois and Carlo Twins Cats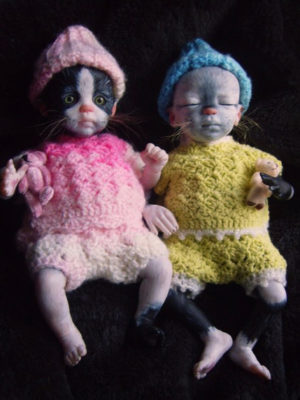 Brand: Nurserie Des Primeveres
Artist: Solange Guelab
Size: 12" tall
Material: Glass beads, polly pellets and soft fiber
Inspired by the cats showed in the picture above, French Artist Solange Guelab created the twin babies cats Loïs and carlo with petunia and Zodi kits by Marita Winters. Special care is given to the details. Look closely to admire their hand-applied whisker as well as their wonderfully detailed hands and feet.
These two babies are painted with genesis paint. They are ballasted with glass beads, polly pellets and soft fiber. The eyes are made from German quality glass.
They will be delivered carefully packaged with tracking and insured with shorts, 1 hand made crochet set, 1 cover and blanket and 1 birth certificate.